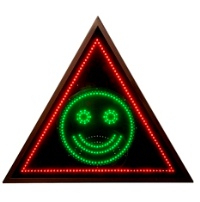 OnSite Smiley Driver Feedback / Speed Display Sign
OnSite Smiley Face Speed Display
Part Number: OnSite Smiley
About
Images work better than numbers
Images are more effective than numbers to reduce speeding. Often drivers are not aware about speed limits in the region, even that it might be familiar area. Numeric information is not relevant enough and many displays do not indicate clearly enough when speed limit is exceeded. In field tests it was clear that image caught driver's attention better than conventional number display. Surprising was that many drivers maintained speed while driving pass the numeric speed display, but slowed down while approaching "Smiley Face" display.
Instant Feedback function
Instant feedback is the major contributor for this. Speed is verified and compared to speed limit 10 times in second. This allows display to react any speed changes while driver is still approaching display. Display turns bright red and shows sad face if limit is exceeded. If driver reduces speed under the limit while still approaching display, it will show immediately green smiley face display and this way awards driver for reducing speed. This type of approach enforces correct behavior more effectively than conventional speed display. Display was also designed as warning sign / triangle shape, which enhances visibility and noticeability.
Versatile programmable functions
Speed limit, minimum and maximum speeds are set by using control panel equipped with back light LCD screen and five control buttons.  Screen and buttons are located behind separate and lockable hatch. USB and serial connections for data transfer are also located behind this same hatch. With maximum speed setting it is possible to filter out extreme speed limit violations. With minimum speed setting it is possible to filter out light traffic like push bikes and pedestrians.
Integrated speed data collection module gathers speed, date and time information from up to 100 000 samples. Module gathers information not only from approaching targets, but resending targets as well. This information can be easily transferred over serial / USB connection directly from display. Optional GSM/GPRS –data transfer allows wireless data transfer from display as well. Control module software is upgradable for new and improved functions. Simple software upgrade enables long life time for this product.
Related Documents
English Brochure
Ask More Info