.
OnSite Checkpoint
Onsite Checkpoint –product line is available from small concealed SCS radar-alarm modules to 2 digit speed displays, dollies and trailers with two 30 or 60 cm high digits and optional Variable Message Sign (VMS).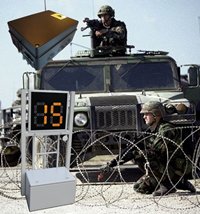 OnSite Check Point Patrol - Mobile Systems
Onsite Check Point Patrol products are tailored sensor or display systems. Systems are made portable for easy transportation. Mobile systems are either inconspicuous radar-alarm modules or 2 digit speed displays & dollies with 30 cm high digits.