.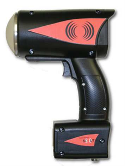 Scout Radar Gun
The Scout sets new standards for portability in radar. Before the Scout, radar had to be plugged into a car or use a proprietary battery pack. Now, police can rest easy, knowing their radar is powered by AA batteries.
Part Number: The Scout
Genesis Handheld Directional Radar Gun
The new Genesis Handheld Directional packs advanced direction sensing technology into a radar gun that fits into any budget.
Part Number: Genesis Handheld Directional