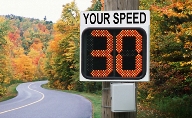 OnSite 50 Pole Mounted Speed Display
Manufactured for value, ease of use and portability.
Part Number: OnSite 50
About
Manufactured for value, ease of use and portability.
As with all OnSite trailers, the unit features our patent-pending SI-3™ Radar, which can track speeds nearly 1.6km away and is accurate from 8km/h to 160km/h. Drivers can see the LED flash of their speed from 305 meters away through the smoked, non-glare Lexan® shielding. The dolly's small size also allows for unencumbered views so drivers may easily see pedestrians or other vehicles.
The OnSite 50™ Features:
- 45.7cm digits visible from 305 meters
- SI-3 radar technology mounted inside display - Flashing violation alert - 110 VAC power supply, on/off switch located inside the control box. - Hand-worked U.S. crafted heavy-duty aluminum frame - Weighs less than 18 kg - Collects EZ Stat traffic info
The OnSite line of radar/message trailers is your #1 solution for continuous speed monitoring and instant traffic safety messages. In addition to use in law enforcement, other applications include deployment for use in school zones, transportation projects, use by emergency services and fire departments, Department of Transportation, and road construction.
--------------------------------------------------------------------------------
The Perfect Solution For:
• Protect Children in School Zones
• Save pedestrians in Cross Walks
• Control Speeding in Parking Lots
• Manage traffic in Neighborhoods
• Slow Drivers to Protect Road Crews in Work Zones
Related Documents
Brochure
Ask More Info