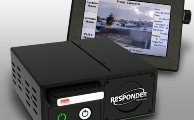 Responder 4000 Integrated Radar and Video
The first unit to ever truly integrate both traffic radar and police in car video system in one unit, the Responder 4000 in car video system processes radar signals internally, taking advantage of Decatur's proven history of speed radar.
Part Number: Responder 4000
About
Responder 4000 – Integrated Radar and Video
With shrinking vehicle sizes, the Responder 4000 brings a new way to think about vehicle equipment. For the first time throughout the industry, Decatur Electronics has integrated traffic patrol functions, combining in car video with speed radar.
For patrol officers, this offers several advantages:
- One display unit makes the officer's mobile office more efficient
- One computer unit rather than two keeps a patrol car safer
- Considerable saving by purchasing one unit rather than two
The Responder 4000 In Car Video System Features
- GPS, crash sensor, light bar integration
- Intuitive touch screen interface
- Wireless radar remote
In car Hardware
- Ultra reliable, spring-mounted solid state drive
- Trigger recording with light bars or other vehicle sensors
- Boots fast — within 1 minute
Interface Features
- Intuitive touch screen display
- Add data to video evidence in the car
- Begin recording with officer mic activation
- Mark events for review later
- Choose your mounting location
Radar Features
- Utilizes time-proven Genesis II Select technology
- Moving radar
- Choose K, K directional or Ka antennas
- Or save money using your existing Decatur antennas
- Record radar data with video evidence
Evidence Management
- Fast transfers
- Simple interface uses your computer's web browser
- Find and view video evidence on any computer in the building
- Restrict access based on user profiles
- Count on Decatur for infrastructure and IT support
Related Documents
Ask More Info